Pulsar IIb
Designed around a single Virtex-7 FPGA.

Supported parts are: XC7VX415T, XC7VX485T, XC7VX550T or XC7VX690T

80 High speed SERDES transceivers (GTX/GTH)

40 for Rear Transition Module (up to 400Gb/s)
28 for the Full Mesh Fabric Interface (Ch 1 is 40Gb/s, Ch 2-13 are 20 Gb/s)
12 for the FMC cards (30Gb/s per FMC)

Four FMC mezzanine cards, each has:

34 LVDS user-defined signals (LA00-LA34) + 2 LVDS output clocks
3 GTH/GTX bidirectional SERDES channels
I2C bus
12V and 3.3V power, up to 35W total

Compatible with the LAPP IPMC module

31 temperature, current, and voltage sensors.
Board supports 10/100/1000-BASE-T Ethernet on Base Interface port 1

256MB DDR3 RAM.
Shelf-wide clock distribution via the backplane Synchronization Interface.
RTM is PICMG 3.8 compliant and supports hot swap.
Block Diagram, Video, and a high res picture of the board and RTM.

Compatible with our FMC Test Mezzanine.

Full mesh backplane link test results.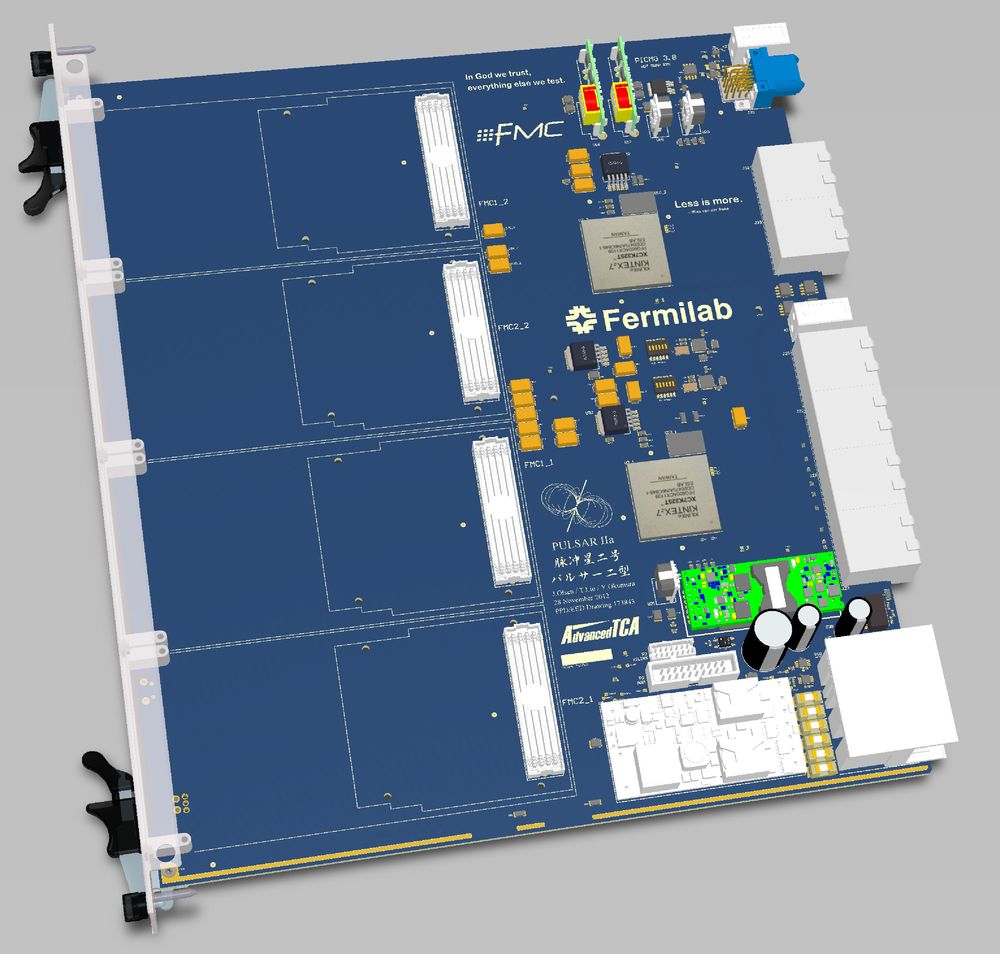 Pulsar IIa
The Pulsar IIa prototype board is a general purpose processing engine based on a pair of Xilinx Kintex XC7K325T FPGAs. Each FPGA interfaces with two FMC mezzanine cards, DDR3 memory, the ATCA full mesh backplane (9 x 10Gbps), RTM (6 x 10Gbps) and a local interconnect bus (20Gbps). The Pulsar IIa is a successor to the Pulsar VME board widely used at CDF and MAGIC.
Design Specification (for ATLAS FTK Data Formatter) [PDF]
Block Diagram [PDF]
Prototype board picture [JPG]
Compatible with our FMC Test Mezzanine.